What the trees taught me about us
Wow. New Year's Day, 2021. I made it. And if you're reading this, you made it too. 2020 was, for all its faults, a necessary year. It was filled with so much human ineptness and such a lack of compassion and understanding that too many lives and livelihoods were unnecessarily lost. It is heartbreaking to watch watch a collective horror like the pandemic unfold, to unfurl in giant tidal waves its impact sparing absolutely no one, yet disproportionately leveling those most in need, those most exposed, those most at-risk, those who have been systematically underserved.

That is a reality that not one of us should ignore. If the pandemic's destruction has showed us anything, it's where the cracks are, where the gaps are. Certain areas, structures, and systems are weak. Even if we don't think that touches us, we're still all at risk, because regardless of whatever bootstrap individualism we've come to accept or embrace, we're much more interconnected than we think.

*
I come back to the trees, because I always do. Because their lessons are important. Because they've figured into my narrative, my childhood, and they unlocked my awe of nature. And they've become a part of my mythology, my way of understanding the world through stories, and the way of telling those stories so that they might last, so that maybe one sentence or a germ of an idea might catch wind of some reader's consciousness and be repeated to another, or eventually planted somewhere.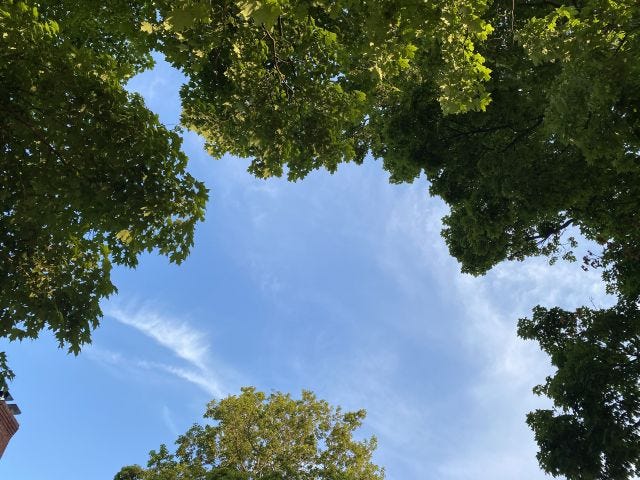 There are a few things I've read about trees last year that fits this life we all find ourselves in, this moment in time where we're all facing the same deadly virus. These things I read made me love trees even more, as if that were possible. In the book "Braiding Sweetgrass," ecologist and professor Robin Wall Kimmerer writes about the underground fungal network that connects trees and plants in old-growth forests. This network is purposeful and protecting: it literally allows the trees to communicate, to send signals of distress if it's being attacked by a disease or an invasive insect like, say, the Emerald Ash Borer. It allows them to share nutrients and resources, like carbon. And when a tree connected to the network is dying, it can give off shares of its carbon to other trees and plants around it.

The network of fungus and trees is mycorrhizae, which defines the symbiotic relationship between the two. The mycelium are the thread-like strands that extend from the fungus itself, connecting with each other and with other plants. It's kind of beautiful to imagine what might be going on under all that dirt on the forest floor. Until last year, I didn't even know enough to think about it.

A recent article in the New York Times, "The Social Life of Forests," featured scientist Suzanne Simard and her work around exploring the nature of this vast fungal network and its relationship with the trees. What was especially fascinating was the contrast of this connectivity that Simard has dedicated her life to studying, and the other assumption that, if new plots of trees were planted in areas with not much other vegetation and no competition (that is, no other tree or plant species to compete for space and resources), that they would do better. Spoiler alert: they did not. According to the article, experiments Simard conducted showed that the trees in the new plots "were frequently more vulnerable to disease and climatic stress than trees in old growth forests . . . in particular, Simard noticed that up to 10 percent of newly planted Douglas fir were likely to get sick and die whenever nearby aspen, paper birch and cottonwood were removed."

The article goes on to note Simard's observations, as well as her next thought: that the trees' health and ability to thrive was related to the underground fungal network. In other words, the trees were strengthened by connection and community.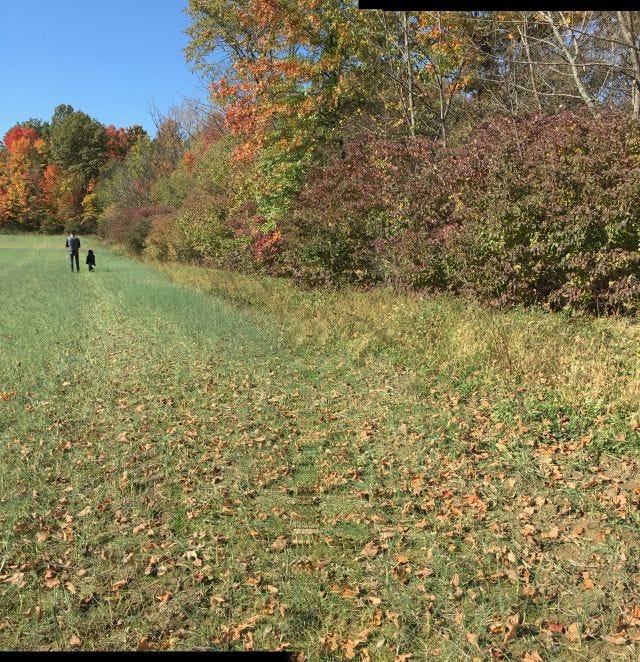 *
Humans need one another. In a year where concerns around health and safety in a pandemic really hampered our ability to participate in community in the ways we once knew it, we suffered. There were triumphs, too: humans are adaptable, creative, and (I believe) on the whole, good. We find solutions to complex problems, and we do it together. We found new ways to work from home, to connect with family and friends, to serve our communities in times of overwhelming need. And perhaps one of the greatest triumphs, not just of our lifetime, but of global history: some of the world's greatest scientific and medical minds from across the entire planet were able to come together and create more than one COVID-19 vaccines in less than a year (as of Dec. 28, 2020, two vaccines had been approved for use, and three others were entering phase 3 clinical trials). That's unprecedented anytime, let alone during a pandemic, when travel and in-person work is severely impacted. When I think of 2020 and the pandemic at any point in my future, I will always look at those vaccines as a bright spot -- as proof that collaboration makes us better, what makes us stronger. Connection and community don't just make us happier -- they literally save lives.

As someone who has always relied on community, and someone whose identity is tied to the idea and purpose of being a productive part of one, 2020 was difficult. The ways in which I used to engage dried up completely, and beyond donating money, anew mode of engagement weren't entirely clear. It was hard to find options to connect with people other than on Zoom, especially after days of remote work filled with video calls and meetings.

And so some of those things faltered, and fell away completely. Introvert that I am, I turned inward. What I realized about myself (and I know I've mentioned this before, perhaps in another email) was that I didn't miss the "see and be seen" aspect of community networking, padded by its drinks and snacks. I missed the sort of in-depth connection I have with friends, or with strangers around a particular passion or just a really damn good conversation. Those were the connections I missed most: the ones with true depth and substance. 
In 2021 and beyond, as we move toward our new normal -- and hopefully, to a place where we can be in shared spaces again, working on projects or creating together or even seeing a concert -- I am vowing to spend less time on the things that don't truly fill that void of community, and to look more for the ones that do. There is no room for the new and better if you don't clear out the old. 

I hope 2020 has allowed you to take stock of what truly matters to you, what feeds you and inspires you. And I hope you're able to let go of what doesn't. And I also hope that you can move forward, despite the collective grief, into creating a better life -- not just for yourself, but for your community as well. And if at any point you doubt your impact on others, or get too in your own head, just remember the trees and their lessons. We're all connected.

love,
Ashley

P.S. I'm thrilled that my essay, "Roadmap to a Fire," was selected as a Best of the Nest by Pigeon Pages' managing editor Ashley Lopez. Lopez wrote: "This essay gets caught in my throat like smoke, and anyone who has lost someone will find a familiar path through grief. A lesson in the sister emotions of bravery and tenderness." It was originally published in Feb. 2020 on Pigeon Pages and you can read it here.

P.P.S. Speaking of trees, I have another essay about them and my sibling that will be publishing very soon in VIDA Review, a dream publication of mine. I've worked on this essay for about three years. It took a lot, and I'm very proud of it. VIDA editor Harmony Hazard had this to say about my work: "...a gut-punch of an essay ... that braids grief about a sibling with grief about land. This is the kind of essay that stays in the body for a long time and I can't wait to see it in the world." Once it's live, I'll send it out.

Like these sporadic email essays? Consider forwarding to a friend.