the joke of time
A smattering of tomatoes rest on my counter, flecked by sunlight that has found its way through the blinds. Some are fat, some are tiny. Some are streaked with deep green, almost purple. Some are a perfect, rich shade of red. Some are marbled with orange and green, red and yellow. Black Krim. Atomic Grape. Rainbow. There's something poetic, something historic about the names of heirlooms. They all suggest a story.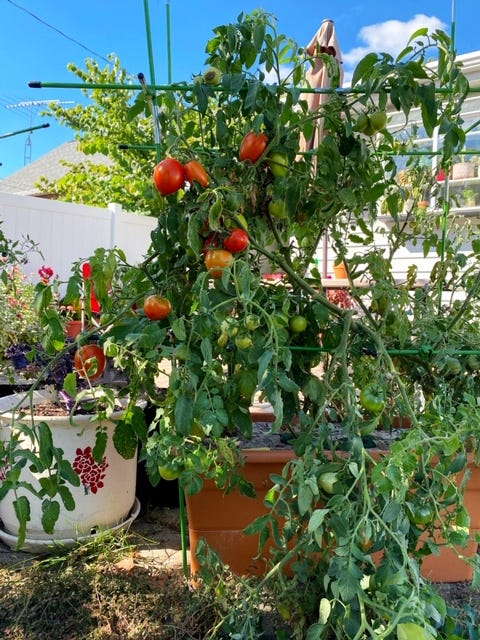 Later, these will be sliced and layered into caprese. Some will be halved and roasted for two hours in a bath of olive oil. Others will be cooked down into sauce, with the handfuls of cut basil I harvest from my backyard garden every week.

This reminds me of how fast and how slow the summer has gone. It's been a season of opposites, a deep feeling of the gap between differences. Slowing down has forced many things into sharper focus, especially the things I normally would have overlooked. In quarantine, it seems we've gained some constraints and lost others -- like a sense of time.

The glut of produce that draws my admiration every time I pass them is the result of hours of work in my garden, building on things I learned the seasons before: don't underwater, don't overwater, add calcium and fertilizer every 10-14 days, prune the leaves, cut off the dead stuff. And yet there are still ripening tomatoes on the vine, which I check each morning, each a little cooler than the last. I gently squeeze them between my thumb and forefinger to test for ripeness, hoping they can hold on a little longer. 

This morning ritual -- the tomato test -- is one I perform alongside many others. I water the jalapenos and green peppers. I check the ferns hanging on the front porch. I search for new growth -- leaves on the plants I've repotted, roots on the plants I'm propagating. It's become a meditation during a time when my brain has become restless and uneasy during six months of quarantine.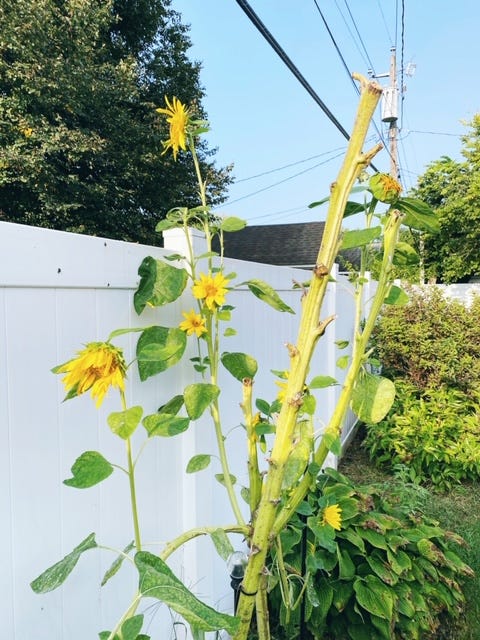 I haven't done nothing. But I'm not living life the way I was last summer, or the summer before that. Less travel, no dining in restaurants, and no patio time at my favorite bars and breweries have given way to near-constant time at home and way more DoorDash than I'd like to admit. But it's also brought this: weekly conversations with my parents. More trips to my parents' farm to visit family and friends. Home patio hangouts, grilled food, and bottles of wine with good friends. Campfires in the backyard. Giant Jenga tournaments with my family (which have resulted in several near-death experiences for my tiny dog). More reading. Learning to draw on my iPad. More time to write, and to read about writing. A chance to focus on the people closest to me.

*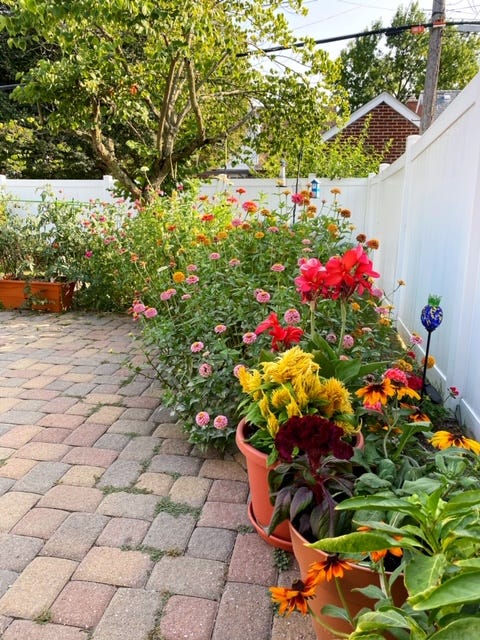 I've always dreaded the approach of fall. I'm the person who will remind you that most of September is actually summer. I cringe when I hear the mention of pumpkin spice, when I see decorative gourds and mums lining shelves at the grocery store and plant center. But this year is different. I started buying ridiculous amounts of mums in late August. Just last weekend, I bought apples and gourds from a local orchard. I posted a picture on social media of my newly-decorated front steps, which prompted a good friend (and fellow forever-summer person) to send me a simple message: "sellout." Fair enough.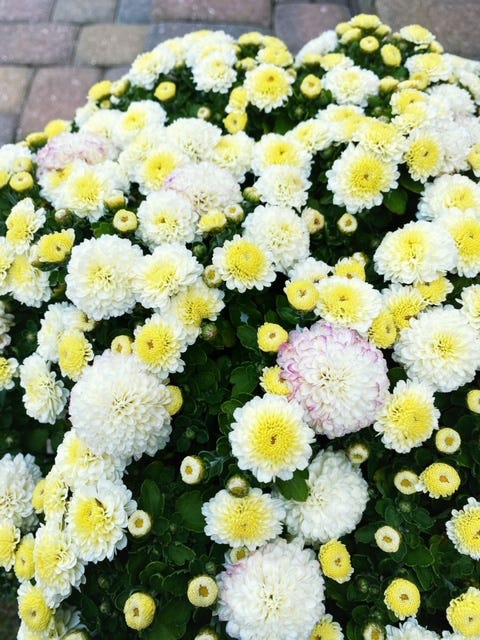 But this year it means something different. During quarantine -- a period of time that has felt very stagnant in many ways -- the slow turn of one season and the start of the next is proof that things are still changing. That time, whatever that means to you, is still moving forward. And these gradual changes, which have been so easy to overlook before when life felt "busier," are more noticeable. I look for the poetry in nature. 

So this week, I planted the seedlings for my first-ever cold weather vegetables: kale, cauliflower, broccoli, bok choy. I made a list of weekend tasks that put summer to bed: cut back the peonies, hose down and bring in the tropicals. Time, moving forward.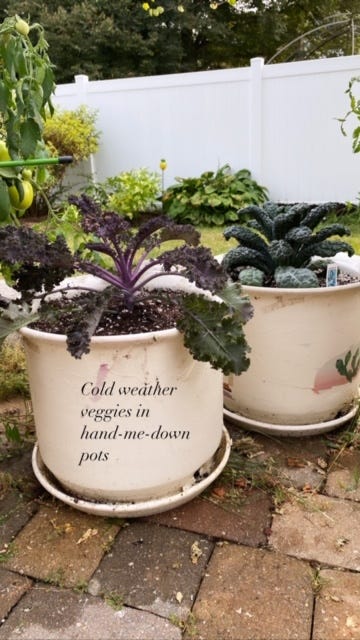 *
Lately I've been reading "Tell It Slant," a nonfiction craft book by Brenda Miller and Suzanne Paola. It's an accessible book, one I'd recommend to anyone wanting to write or learn about creative nonfiction, and is loaded with writing prompts and exercises that help you generate work. The first chapter, "The Body of Memory," is a beautiful one, complete with exercises focused on recalling your earliest memories -- or at least, the remnants of them, which are referred to as "river teeth": 

"The prominent fiction writer and essayist David James Duncan calls such autobiographical images 'river teeth.' Based on his knowledge that knots of dense wood remain in a river years after a fallen tree disintegrates, Duncan creates a metaphor of how memory, too, retains vivid moments that stay in the mind long after the events that spurred them have been forgotten. He writes:
'There are hard, cross-grained whorls of memory that remain inexplicably lodged in us long after the straight-grained narrative material that housed them has washed away. Most of these whorls are not stories, exactly; more often they're self-contained moments of shock or of inordinate empathy. . . . These are our 'river teeth' -- the time-defying knots of experience that remain in us after most of out autobiographies are gone.'"*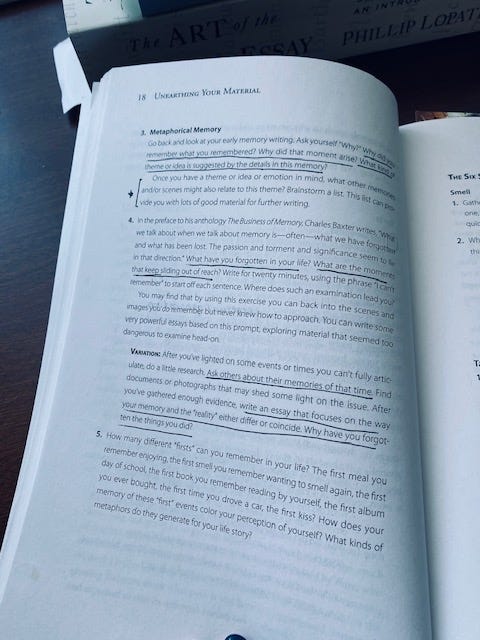 I love this metaphor, because it feels like a truer, more accurate description of the nature of memory. Most people don't have memories that spring forth fully-formed -- there are moments of feeling, or a visceral image, that stay with us. The river teeth. Our brains then do the work of constructing and accumulating meaning around those remaining pieces -- meaning that changes over time, depending on when the person remembering is looking back, or looking within. This is one of the most exciting things about writing creative nonfiction for me -- the ever-changing lenses we use to refract memory, the way the meanings change with time. Reflecting that consideration in the writing itself -- the meta-narrative subtext, if you will -- is an honest acknowledgment of the narrator's shortcomings (and, as narrators, we all share that shortcoming). 

An early memory that sticks out: as a young child, I got lost at a street fair. I don't have a sense of how old I was, but I do have flashes of image and feeling that stick out. I was at the bubble machine, my mother said, and then I wasn't. I can remember the crush of people and the lure of the bubbles, and in hindsight I can see how this could be distracting, disorienting. Watching bubbles with the singular, admiring focus of a child is hands outstretched, face up; it's following those perfect, glossy spheres that move through air like they're enchanted, the iridescent surface reflecting silver, pink, purple. How easily delight betrays safety.

The next thing I remember is a man crouching down to talk to me. He was with a group, and he asked, "where are your parents?" He offered to help, and I remember asking this one specific question: "are you bad?" At that age -- whatever that age was -- I already had formed a narrative about the bad in the world. It was already something that had concerned me, something I needed to be aware of. But this story has a happy ending: he put me on his shoulders so I could look for my family in the crowd, and so they could spot me just as easily. 

I don't know how long I was lost. I don't have the other parts of this memory: just bubbles and the shoulders of a helpful stranger. I do know that it's easy to imbue these early memories with meaning, or at least, with questions. What does this say about me? As a reader, you might simply say, well, she wandered off at a street fair -- it really is that simple. But what's intriguing to me -- not just as a writer of nonfiction, but a reader of it as well -- is how those origin memories become origin stories, and how those shape our views moving forward.

If I place that memory parallel with my life at any given point, one thing is clear: I've always chased delight. The definition of delight may have changed over the years, but the action -- the chasing -- has not.

I guess, then, that there isn't that much difference between a bubble and a tomato.
__

be well.


*Excerpted from "Tell It Slant: Creating, Refining, and Publishing Creative Nonfiction," Third Edition, by Brenda Miller and Suzanne Paola.